— 百信银行服务价目表(6.0版,2022年)—
AiBank Service Price Lists (6.0Version, 2022)
第一章,免费服务项目表Chapter I Free Service Items
1.1 国内结算业务Domestic Settlement Business
编号
Item No.
服务项目
Service Items
服务价格
Service Price
适用对象
Targeted Customers
备注
Remarks
优惠政策
Promotion

MF001

人民币个人账户类
RMB personal account
本行个人账户的开户手续费和销户手续费
Handling fee for opening/closing personal savings account with aiBank
免费
Free of charge
个人客户
Personal customers

MF002

同城本行转账手续费
aiBank transfer fee
免费
Free of charge
个人客户
Personal customers
1."同城"范围不小于地级市行政区划,同一直辖市、省会城市、计划单列市列入同城范畴
1."Local" refers to the place no smaller than a prefecture-level city, including a municipality directly under the central government, provincial capital and municipality with independent planning status
2.贷记卡账户除外
2.Except credit card account

MF003

密码修改手续费和密码重置/挂失手续费
Password modification/resetting/loss report fee
免费
Free of charge
个人客户
Personal customers

MF004

通过本行电子银行提供的境内本行查询服务收费
Domestic aiBank inquiry service fee through E-banking
免费
Free of charge
个人客户
Personal customers

MF005

已签约开立的账户年费和账户管理费(含小额账户管理费)
Annual fee and (small-value) account management fee
免费
Free of charge
个人客户
Personal customers

MF006

向救灾专用账户捐款的跨行转账手续费、电子汇划费
Inter-bank transfer fee,electronic remittance & transfer fee for donation to special account for disaster relief
免费
Free of charge
个人客户
Personal customers

MF007

以电子方式提供12个月内(含)本行对账单的收费
Fee for aiBank electronic statement within 12 months (inclusive)
免费
Free of charge
个人客户
Personal customers

MF012

国内对公结算
Domestic Corporate Settlement
对公客户新增、变更客户信息
Add and update customer information for corporate customer
免费
Free of charge
对公客户
corporate customers

MF013

对公客户变更账户信息
Update account information for corporate customer
免费
Free of charge
对公客户
corporate customers
1.2 电子银行业务E-banking
编号
Item No.
服务项目
Service Items
服务价格
Service Price
适用对象
Targeted Customers
备注
Remarks
优惠政策
Promotion

MF009

移动银行
Mobile banking
开通/注销移动银行服务及移动银行暂停/启用
Register for/cancel mobile banking service and suspend/enable mobile banking service
免费
Free of charge
个人客户
Personal customers

MF010

移动银行账户签约/解约、客户资料查询/修改及本行账务查询
Register for/cancel mobile banking account, check/update customer information and check aiBank account
免费
Free of charge
个人客户
Personal customers

MF011

移动银行定活互转
Fixed-current transfer
免费
Free of charge
个人客户
Personal customers
第二章,收费服务价目表Chapter II Price List of Paid Services
2.1 政府定价与政府指导价-国内结算业务Government Pricing and Government Guidance Price-Domestic Settlement Business
编号
Item No.
服务项目
Service Items
服务内容
Service Functions
服务价格
Service Price
适用对象
Targeted Customers
定价形式
Pricing Form
优惠政策
Promotion
文号
Ref. No.

ZF001

个人跨行柜台转账汇款手续费
Counter-based inter-bank remittance fee for personal customers
通过柜台将个人客户的资金从本行账户(不含信用卡)转移到其他银行(含同城和异地)的账户;转账范围包括向其他银行的本人、其他个人或单位的账户进行资金转移
Transfer the funds of personal customer from a CITIC Bank account (excluding credit card) to an account with other banks (including local and non-local banks) over the counter; support transferring funds to the applicant's account with other banks, account of other person or company with other banks.
每笔0.2万元以下(含0.2万元),收费2元; 0.2万-0.5万元(含0.5万元),收费5元; 0.5万-1万元(含1万元),收费10元;1万-5万元(含5万元),收费15元; 5万元以上,按汇款金额的0.03%收取,最高收费50元
RMB2 for each transaction below RMB2,000 (inclusive); RMB5 for each transaction of RMB2,000 to RMB5,000 (inclusive); RMB10 for each transaction of RMB5,000 to RMB10,000 (inclusive); RMB15 for each transaction of RMB10,000 to RMB50,000 (inclusive); 0.03% of remittance amount, maximum RMB50 for each transaction above RMB50,000.
个人客户
Personal customers
政府指导价
Government guidance price
1.2022年12月31日前免费
1.Free until December 31st, 2022
2.后续优惠(如有)依协议确定
2.Subsequence preferential policies (if any) are definited according to the agreement
发改价格[2014]268号
F.G.J.G.[2014]No.268

ZF002

对公跨行柜台转账汇款手续费
Counter-based inter-bank remittance fee for corporate customers
通过柜台将对公客户的资金从本行账户转移到其他银行(含同城和异地)的账户;转账范围包括向其他银行的本人、其他个人或单位的账户进行资金转移
Transfer the funds of corporate customer from a CITIC Bank account to an account with other banks (including local and non-local banks) over the counter; support transferring funds to the applicant's account with other banks, account of other person or company with other banks.
每笔1万元以下(含1万元),收费5元; 1万-10万元(含10万元),收费10元; 10万-50万元(含50万元),收费15元; 50万-100万元(含100万元),收费20元;100万元以上,按汇款金额的0.002%收取,最高收费200元
RMB5 for each transaction below RMB10,000 (inclusive); RMB10 for each transaction of RMB10,000 to RMB100,000 (inclusive); RMB15 for each transaction of RMB100,000 to RMB500,000 (inclusive); RMB20 for each transaction of RMB500,000 to RMB1 million (inclusive); 0.002% of remittance amount for each transaction above RMB1 million, maximum service price is RMB200.
对公客户
Corporate customers
政府指导价
Government guidance price
1.2022年12月31日前免费
1.Free until December 31st, 2022
2.后续优惠(如有)依协议确定
2.Subsequence preferential policies (if any) are definited according to the agreement
发改价格[2014]268号
F.G.J.G.[2014]No.268
2.2 市场调节价-国内结算业务Market-adjusted Prices-Domestic Settlement Business
一、鉴证服务Attestation Service
编号
Item No.
服务项目
Service Items
服务内容
Service Functions
服务价格
Service Price
适用对象
Targeted Customers
优惠政策
Promotion

GN001

个人存款证明
Personal deposit certificate
为客户开立电子个人存款证明
Issue electronic personal deposit certificate
1.境内居民:10元/份;
1. Domestic residents: RMB10 for each one;
2.非境内居民:20元/份
2. Non-domestic residents: RMB20 for each one
个人客户
Personal customers
1.2022年12月31日前免费
1.Free until December 31st, 2022
2.后续优惠(如有)依协议确定
2.Subsequence preferential policies (if any) are definited according to the agreement

GN003

单位询证函
Corporate confirmation request
为客户开立单位询证函
Issue corporate confirmation request for customers
200元/份
RMB200 for each one
对公客户
Corporate customers
1.2022年12月31日前免费
1.Free until December 31st, 2022
2.后续优惠(如有)依协议确定
2.Subsequence preferential policies (if any) are definited according to the agreement
二、其他国内结算业务Other Domestic Settlement Business
编号
Item No.
服务项目
Service Items
服务内容
Service Functions
服务价格
Service Price
适用对象
Targeted Customers
优惠政策
Promotion

GN002

短信通
SMS alert
为客户提供短信通知服务。
根据发改价格[2014]268号规定,商业银行为银行客户提供账户变动短信提醒服务并收费的,应事先通过网点或电子渠道等与银行客户签约;未与银行客户签约的,不得收费
Provide SMS alert service for customers.
According to F.G.J.G.[2014]No.268 Document, the commercial bank should sign an agreement about account activity SMS alert service with the customer before charging SMS alert service fee; no fee is allowed if no such agreement is signed with the customer
1.个人短信通服务:3元/月;
1. Personal SMS alert service: RMB3 per month;
2.对公短信通服务:30元/月;
2. Corporate SMS alert service: RMB30 per month;
3.国际业务短信通服务:30元/月或0.1元/条
3. International business SMS alert service: RMB30 per month or RMB0.1 per message
全部客户
All customers
1.2022年12月31日前免费
1.Free until December 31st, 2022
2.后续优惠(如有)依协议确定
2.Subsequence preferential policies (if any) are definited according to the agreement
三、国内对公结算III. Domestic Corporate Settlement
编号
Item No.
服务项目
Service Items
渠道
Channel
服务内容
Service Functions
服务价格
Service Price
适用对象
Targeted Customers
优惠政策
Promotion

GN004

人民币转账
RMB transfer
为客户提供网上银行渠道人民币资金本行及跨行转账业务
Intra-bank and inter-bank RMB transfer services are provided to customers with online banking channel
本行:免费
跨行:
每笔1万元以下(含1万元),收费4元;1万-10万元(含10万元),收费8元;10万-50万元(含50万元),收费12元;50-100万元(含100万元),收费16元;100万元以上,按汇款金额的0.002%收取,最高收费160元
AiBank:Free
Inter-bank:
RMB4 for each transaction below RMB10,000(inclusive);RMB8 for RMB10,000-RMB100,000(inclusive);RMB12 for RMB100,000-RMB500,000(inclusive);RMB16 for RMB500,000-RMB1 million(inclusive);0.002% of the sum for remittance over RMB1 million with the maximum charge at RMB160
对公客户
Corporate customers
1.2022年12月31日前免费
1.Free until December 31st, 2022
2.后续优惠(如有)依协议确定
2.Subsequence preferential policies (if any) are definited according to the agreement

GN005

账户服务
Account service
为客户提供补制纸质对账单等账户管理类服务
provide account management services such as reprinting of bank statement to customers
补制纸质对账单:20元/份
Reprinting of bank statement: RMB20 for each one
对公客户
Corporate customers
1.2022年12月31日前免费
1.Free until December 31st, 2022
2.后续优惠(如有)依协议确定
2.Subsequence preferential policies (if any) are definited according to the agreement

GN006

银行承兑汇票业务
Bank Accepted Draft
为客户提供银行承兑汇票签发服务
Provide bank acceptance service for customers
银行承兑汇票手续费:每笔按票面金额的0.05%收取
Handling fee: 0.05% as per the face amount
对公客户
Corporate customers
1.2022年8月19日开始收费
1.Start charging on August 19,2022
2.后续优惠(如有)依协议确定
2.Subsequence preferential policies (if any) are definited according to the agreement
2.3 理财业务Wealth Management Business
编号
Item No.
服务项目
Service Items
服务内容
Service Functions
服务价格
Service Price
适用对象
Targeted Customers
优惠政策
Promotion

LC001

理财业务
Wealth management business
为客户提供理财产品销售、投资管理服务
Provide wealth management product sales, investment management services.
按协议定价,具体收费标准参见理财产品销售文件
Agreed price. Please refer to wealth management product prospectus for specific charging standard
全部客户
All customers
1.2018年10月10日开始收费。
1.Start charging on October 10,2018.
2.后续优惠(如有)依协议确定
2.Subsequence preferential policies (if any) are definited according to the agreement
2.4 委托代理业务Entrusted & Agency Business
一、代理销售业务Agency Sales
编号
Item No.
服务项目
Service Items
服务内容
Service Functions
服务价格
Service Price
适用对象
Targeted Customers
优惠政策
Promotion

WD001

代理基金业务
Agency fund service
为客户提供基金产品销售及相关服务
Provide sales of fund products and relevant services
按基金合同费率
According to the fund contract
全部客户
All customers
1.2018年1月31日开始收费。
1.Start charging on January 31,2018.
2.后续优惠(如有)依协议确定
2.Subsequence preferential policies (if any) are definited according to the agreement

WD002

代理保险业务
Agency insurance
为客户提供保险产品销售及相关服务
Provide sales of insurance products and relevant services
协议定价
Agreed price
全部客户
All customers
1.2018年1月31日开始收费。
1.Start charging on January 31,2018.
2.后续优惠(如有)依协议确定
2.Subsequence preferential policies (if any) are definited according to the agreement

WD003

代理信托及资产管理计划业务
Agency trust and asset management plan business
为客户提供信托产品及各类资产管理计划的代为推介服务、推荐信托计划及各类资产管理计划的投资者,以及提供销售建议和咨询等一揽子综合金融服务
Provide referral service of trust products and various asset management plans to customers, recommend investors of trust plans and various asset management plans, provide a full package of financial services including suggestions and consultation on the product sales
按所代理信托产品及各类资产管理计划金额的0-5%的年化费率收取;或按协议价格收取
0-5% of agency trust product amount and various asset management plans (annualized); or charged as per agreement
全部客户
All customers
1.2018年1月31日开始收费。
1.Start charging on January 31,2018.
2.后续优惠(如有)依协议确定
2.Subsequence preferential policies (if any) are definited according to the agreement

WD004

代理其他销售业务
Other agency sales service
接受客户委托,在合规的前提下代理销售第三方机构(不含基金公司、保险公司、信托公司、证券公司)的产品与服务
Sell products and services on behalf of third-party institutions (excluding fund company, insurance company, trust company and securities company) in compliance with regulations as entrusted by the customer
协议定价
Agreed price
全部客户
All customers
1.2018年1月31日开始收费。
1.Start charging on January 31,2018.
2.后续优惠(如有)依协议确定
2.Subsequence preferential policies (if any) are definited according to the agreement

WD006

代理销售实物贵金属业务
Agency physical precious metals
为客户提供实物贵金属销售及相关服务
Provide customers with physical precious metals sales and related services.
协议定价
Agreed price
全部客户
All customers
1.2019年09月18日开始收费。
1.Start charging on September 18,2019.
2.后续优惠(如有)依协议确定
2.Subsequence preferential policies (if any) are definited according to the agreement

WD007

贵金属产品经销业务
Precious metal distribution business
向客户销售自有品牌贵金属产品及其他贵金属产品
Sell own-brand precious metal products and other precious metal products.
按本行挂牌价格销售
Sell at the listed price of the Bank
全部客户
All customers
1.2019年09月18日开始收费。
1.Start charging on September 18,2019.
2.后续优惠(如有)依协议确定
2.Subsequence preferential policies (if any) are definited according to the agreement

WD008

代销理财业务
Agency wealth management
为客户提供代销理财产品销售及相关服务
Provide sales of agency wealth management products and relevant services
1.申购费、认购费、赎回费:按代销理财产品申购/认购/赎 回金额的0-3%,一次性收取;
1. Subscription fee, purchase fee, redemption fee: 0 - 3% of subscription/purchase/redemption amount of agency wealth management product, charged in a lump sum;
2.销售服务费:按代销理财产品的保有金额0.05-2%,每日计提
2. Sales service fee, rake-off: 0.05 - 2% of holding amount of agency wealth management product, accrued daily
全部客户
All customers
1.2020年09月10日开始收费。
1.Start charging on September 10,2020
2.后续优惠(如有)依协议确定
2.Subsequence preferential policies (if any) are definited according to the agreement
二、委托贷款业务Entrusted Loan
编号
Item No.
服务项目
Service Items
服务内容
Service Functions
服务价格
Service Price
适用对象
Targeted Customers
优惠政策
Promotion

WD005

委托贷款
Entrusted Loan
根据委托人确定的贷款对象、用途、金额、期限、利率等代为发放、监督使用并协助收回的贷款业务。委托人包括政府部门、企事业单位及个人等
According to the loan customer, purpose, amount, loan time limit and rate determined by the trustee, the loan business is issued, supervised and used to assist in collect overdue accounts. The trustee includes government departments, enterprises, institutions and individuals.
协议定价
Agreed price
全部客户
All customers
1.2018年10月25日开始收费。
1.Start charging on October 25,2018.
2.后续优惠(如有)依协议确定
2.Subsequence preferential policies (if any) are definited according to the agreement
2.5 电子银行业务E-banking
一、在线金融业务Online Financial Business
编号
Item No.
服务项目
Service Items
服务内容
Service Functions
服务价格
Service Price
适用对象
Targeted Customers
优惠政策
Promotion

DZ001

电子金融服务
Electronic financial services
为互联网平台客户提供资金管理、客户管理、订单管理等日常服务,跨行扣款、跨行付款、本行资金划转等支付服务,以及根据客户需求,提供电子商务咨询服务或电子招投标服务
For the Internet platform for customers,we Provide financial management, customer management, order management and other daily services , and inter-bank deduction, inter-bank payment, intra-bank transfer and other payment services, and according to customers' needs, we provide e-commerce consulting service or electronic bidding service.
1.日常服务:5000元/平台/月
1. Daily Service:RMB5000.00 each platform for each month
2.支付服务:
2. Payment Service:
(1)跨行扣款(充值、支付等)服务:交易金额的5%收取
(1)Inter-bank deduction(deposit, payment, etc.) service: 5% of transaction amount;
((2)个人跨行付款服务(提现、结算等):10元/笔
(2)Inter-bank agreement payment service(withdraw deposit, settle account, etc.) for individuals: RMB10.00 per transaction;
(3)企业跨行付款服务(提现、结算等):50元/笔
(3)Inter-bank agreement payment service(withdraw deposit, settle account, etc.) for enterpirses: RMB50.00 per transaction;
(4)本行资金划转(提现、结算等):10元/笔;
(4)Intra-bank agreement transfer service(withdraw deposit, settle account, etc.): RMB10 per transaction;
(5)资金垫资服务:按垫资金额的1%收取垫资费;
(5)Advance Payment service: Charge by 1% of transaction amount;
3.增值服务:
(1)电子商务项目咨询服务:不低于5万元/次;
(1)Project consultant services:Not less than RMB50,000 once;
(2)电子招投标服务:5万元/项目
(2)Tendering and Bidding Procedures:RMB50,000 each project
4.其他:按协议定价
4.Others:Agreed price
对公客户
Corporate customers
1.2019年6月5日开始收费
1.Start charging on Jun 5, 2019
2.后续优惠(如有)依协议确定
2.Subsequence preferential policies (if any) are definited according to the agreement

DZ002

电子账户管理
Electronic Account Management
为客户提供电子账户/账簿管理服务,包括账户开立、实名制认证、鉴权、日常管理、短信等账户管理服务
We provide electronic account/account book management services, including account opening, real name authentication, linking card authentication, SMS, daily management and other account management services.
1.账户开立服务:10元/户
1.Account Opening Service:
RMB10.00 per account
2.个人/企业实名制认证服务:2元/次
2.Real name authentication Service:
RMB2.00 each
3.银行卡/账户鉴权服务:2元/次
3.Bank card authentication Service:
RMB2.00 each
4.手机号鉴权服务:2元/次
4.Real Phone authentication Service:
RMB2.00 each
5.账户日常管理服务:5元/户/月
5.Account daily Management service:RMB5.00 per account per month
6. 短信:0.1元/次
6. SMS:RMB0.1 each
7.其他:按协议定价
7.Others:Agreed price
全部客户
All customers
1.2019年6月5日开始收费
1.Start charging on Jun 5, 2019
2.后续优惠(如有)依协议确定
2.Subsequence preferential policies (if any) are definited according to the agreement

DZ003

系统接入服务
System Access Services
为互联网平台客户接入我行账户管理、支付结算系统提供专业咨询、平台方案设计、系统测试、系统接入指导等服务,以及企业证书等费用
For the accessing of account management, payment and settlement system ,we provide professional advice, platform design, system testing, system access guidance services,and enterprise certificates and other expenses
1.接入服务:200000元/平台
1. Access Service:RMB200,000 per platform
2.企业证书:500元/个
2. Enterprise certificate:RMB500 each
全部客户
All customers
1.2018年1月27日开始收费
1.Start charging on January 27, 2018
2.后续优惠(如有)依协议确定
2.Subsequence preferential policies (if any) are definited according to the agreement

DZ004

电子银行账户增值服务
Electronic Account with Value-added Services
为电子银行渠道中的账户提供电子账簿服务及相关增值服务,包括但不限于:(1)电子账簿管理服务,即为客户搭建账户内部登记簿分户核算体系,并提供二级账户之间资金划转登记、主账户与二级账户之间资金划转登记、回单、凭证等一系列服务;(2)对公账户收付控制,即满足客户对资金流向进行控制的需求,为客户建立完整、安全、便捷的收付款流程
We Provide subsidiary account services and related value-added services for electronic banking channels in the account, including but not limited to:
(1)management service for electronic account book, which accounts for customers to build the internal accounting system of household register, and provide a series of services about transferring between the second level accounts, the main account and second level account transfer, receipt, vouchers;
(2)account payment control for corporate, control the flow of funds to build a complete, safe and convenient payment process"
1.账簿体系服务:5000元/月/体系;
1. account book structure service:RMB5000 each structure for each month;
2.附属账户资金分户服务:按照开立的附属账户的数量,200元/月/账户;
2. account book service:CNY200 each account for each month;
3.资金划转登记服务:按划转金额的5%收费
3. Adjunct account transaction service:charge by 5% of transaction amounth;
4.账户收付控制:200元/月/账户
4. Account transaction control:CNY200 each account for each month
5.其他:按协议定价
5.Others:Agreed price
对公客户
Corporate customers
1.2019年6月5日开始收费
1.Start charging on Jun 5, 2019
2.后续优惠(如有)依协议确定
2.Subsequence preferential policies (if any) are definited according to the agreement

DZ011

增值服务
Value-added service
为客户提供增值服务,包括但不限于银行账户保险保障、健康医疗、购物、餐饮、观影、酒店、旅行、汽车服务等与日常生活各个场景相契合的权益产品。
Provide electronic account value-added service for customers, including but not limited to bank account insurance cover, health care, shopping, catering, viewing, hotel, travel, car services, and other benefit-based products that are compatible with every scene of daily life.
协议定价
Agreed price
个人客户
Personal customers
1.2020年11月10日开始收费
1.Start charging on November 10, 2020
2.后续优惠(如有)依协议确定
2.Subsequence preferential policies (if any) are definited according to the agreement
二、行业存管业务Depository Business
编号
Item No.
服务项目
Service Items
服务内容
Service Functions
服务价格
Service Price
适用对象
Targeted Customers
优惠政策
Promotion

DZ005

客户电子账户账户管理
Online customer account management
为客户提供电子账户管理服务,包括账户开立、实名制认证、绑定卡鉴权、日常管理等账户管理服务
We provide electronic account management services for individual customers, including account opening, real name system authentication, banking card authentication, daily management and other account management services
按协议定价,具体收费标准参见存管业务收费表
Agreed price.Please refer to custodian bank service prospectus for specific charging standard.
对公客户
Corporate customers
1.2019年4月17日开始收费
1.Start charging on Apr 17th, 2019
2.后续优惠(如有)依协议确定
2.Subsequence preferential policies (if any) are definited according to the agreement

DZ006

客户电子账户资金划转
Online account transaction service
为合作平台上的客户电子账户提供资金的出入金服务(包括充值、提现、垫资等服务)
We provide transaction service for cooperated companies.
按协议定价,具体收费标准参见存管业务收费表
Agreed price.Please refer to custodian bank service prospectus for specific charging standard.
对公客户
Corporate customers
1.2019年4月17日开始收费
1.Start charging on Apr 17th, 2019
2.后续优惠(如有)依协议确定
2.Subsequence preferential policies (if any) are definited according to the agreement

DZ007

存管业务服务
Custodian bank service
为合作方提供资金存管服务
Custody of the fund depository account
按协议定价,具体收费标准参见存管业务收费表
Agreed price.Please refer to custodian bank service prospectus for specific charging standard.
对公客户
Corporate customers
1.2019年4月17日开始收费
1.Start charging on Apr 17th, 2019
2.后续优惠(如有)依协议确定
2.Subsequence preferential policies (if any) are definited according to the agreement

DZ008

存管系统接入服务
Custodian systems access service
为互联网平台客户接入我行账户管理、支付结算系统提供专业咨询、平台方案设计、系统测试、系统接入指导等服务,以及企业证书等费用
For the Internet platform, we provide customer accessing to our bank account management, payment and settlement system to provide professional advice, platform design, system testing, system access guidance services, and enterprise certificates and other expenses
按协议定价,具体收费标准参见存管业务收费表
Agreed price.Please refer to custodian bank service prospectus for specific charging standard.
对公客户
Corporate customers
1.2019年4月17日开始收费
1.Start charging on Apr 17th, 2019
2.后续优惠(如有)依协议确定
2.Subsequence preferential policies (if any) are definited according to the agreement

DZ009

存管系统升级服务费
Custodian systems upgrading service
为合作平台提供系统升级服务
We provide fund depository upgrading service for platform
按协议定价,具体收费标准参见存管业务收费表
Agreed price.Please refer to custodian bank service prospectus for specific charging standard.
对公客户
Corporate customers
1.2019年4月17日开始收费
1.Start charging on Apr 17th, 2019
2.后续优惠(如有)依协议确定
2.Subsequence preferential policies (if any) are definited according to the agreement

DZ010

短信服务
SMS Service
发送短信至客户手机
Send SMS alert to customers
0.1元/次
RMB0.1 each
对公客户
Corporate customers
1.2019年4月17日开始收费
1.Start charging on Apr 17th, 2019
2.后续优惠(如有)依协议确定
2.Subsequence preferential policies (if any) are definited according to the agreement
三、个人信贷业务Personal Credit Loan
编号
Item No.
服务项目
Service Items
服务内容
Service Functions
服务价格
Service Price
适用对象
Targeted Customers
优惠政策
Promotion

DZ012

个人信贷业务
Personal credit loan
为客户提供贷款服务,包括消费分期等
Provide installments and relevant services
1.分期服务费。仅针对特定产品收取,且收取分期服务费的产品不再收贷款正常利息。
根据产品类别按付款总额的一定比例收取。3期:0.90%/月;6期:0.80%/月;9期:0.80%/月;12期:0.75%/月;24期:0.75%/月
注:依据我行对客户风险的评估情况,对不同风险级别的客户收取的手续费率,可在上述基准费率上下浮动50%的范围内进行调整。
Handling fees will be charged only for particular products, for which loan interest will be exempted . Handling fees will be charged at a proportion to the total installment amount depending on the product .Monthly fee rates are listed as follows:0.90%(3 installments);0.80%(6 installments);0.80%(9 installments) ;0.75%(12 installments);0.75%(24 installments); Notes: In the above services, the handling fee rate for customers with different risk levels is 50% plus or minus the base fee according to the evaluation on the customer risk
2.提前还款违约金:仅针对特定产品收取。根据产品类别按剩余未付分期服务费的一定比例收取,最高不超过100%;按其他方式收取时,遵照协议具体约定。
Cancellation fees will be charged only for particular products at a proportion of the remaining unpaid installment fees which will be less than or equal to 100%. (Please check out the agreement for details about other charging ways).
3.逾期违约金:仅针对特定产品收取。根据产品类别按未还本金金额的一定比例收取,逐期计收,费率最高不超过5%;按其他方式收取时,遵照协议具体约定。
Default fees will be charged only for particular products. Maximum 5% on unpaid balance for each month; charged monthly.(Please check out the agreement for details about other charging ways).
4.按其他方式收取,遵照协议具体约定。
Other charging ways. Please check out the agreement for details.
5.延期手续费。仅针对特定产品收取,且收取延期服务费的产品不再收贷款正常利息。
依据协议约定收取。
Extension fees will be charged only for particular products, for which loan interest will be exempted .
Extension fees will be collected according to agreement.
个人客户
Personal customers
1.2019年7月11日开始收费。
1.Start charging on Jul,11, 2019.
2.后续优惠(如有)依协议确定
2.Subsequence preferential policies (if any) are definited according to the agreement

四、服务及工本费Ⅰ.Installment Business
编号
Item No.
服务项目
Service Items
服务内容
Service Functions
服务价格
Service Price
适用对象
Targeted Customers
优惠政策
Promotion

DZ013

公司网银渠道服务
Corporate online banking channel services
为客户开通公司网银服务渠道业务
Opening corporate online banking channel business
网上银行日常服务:15元/月/账户
Online banking daily services: RMB15/month/account
对公客户
Corporate customers
1.2022年12月31日前免费
1.Free until December 31st, 2022
2.后续优惠(如有)依协议确定
2.Subsequence preferential policies (if any) are definited according to the agreement


DZ014

数字证书年费
Annual fee of digital certificate
公司网银操作员数字证书认证服务
Digital certificate authentication service for the operator of corporate Internet banking
200元/年/证书
RMB200 per year for each certificate
对公客户
Corporate customers
1.2022年12月31日前免费
1.Free until December 31st, 2022
2.后续优惠(如有)依协议确定
2.Subsequence preferential policies (if any) are definited according to the agreement


DZ015

电子介质工本费
e-medium cost
为客户提供ai盾等载体服务
Provide aiKey for customers
40元/个
RMB40 each
对公客户
Corporate customers
1.2022年12月31日前免费
1.Free until December 31st, 2022
2.后续优惠(如有)依协议确定
2.Subsequence preferential policies (if any) are definited according to the agreement


DZ016

银企直联渠道服务
Bank-enterprise direct connection channel services
为客户开通银企直联服务渠道业务
Opening bank-enterprise direct connection
1.银企直联开通费:10万元/客户
1.Openning fee for bank-enterprise direct connection: RMB100,000/customer
2.银企直联日常服务:200元/月/账户
2.Daily services for bank-enterprise direct connection:
RMB200/month/account

对公客户
Corporate customers
1.2022年12月31日前免费
1.Free until December 31st, 2022
2.后续优惠(如有)依协议确定
2.Subsequence preferential policies (if any) are definited according to the agreement

2.6 同业合作及平台服务业务Inter-bank cooperation and platform service
编号
Item No.
服务项目
Service Items
服务内容
Service Functions
服务价格
Service Price
适用对象
Targeted Customers
优惠政策
Promotion

TP001

业务合作平台费
Platform fee for business cooperation
为合作平台提供还款代扣服务
Provide payment withholding service for the cooperative platforms
协议定价
Agreed price

对公客户
Corporate customers
1.2018年11月17日开始收费
1.Start charging on November 17, 2018
2.后续优惠(如有)依协议确定
2.Subsequence preferential policies (if any) are definited according to the agreement

TP002

技术合作手续费
Charges of technical cooperation
基于互联网金融技术手段,为客户提供产品研发、推广、运营、咨询等方面的服务。
Provide product research & development, promotion , operation, consulting services to customers, based on internet finance technology
协议定价
Agreed price

同业/对公客户
Inter-bank /Corporate customers
1.2018年11月30日开始收费
1.Start charging on November 30, 2018
2.后续优惠(如有)依协议确定
2.Subsequence preferential policies (if any) are definited according to the agreement

TP003

资产管理及资产证券化
Asset management and asset-backed securitization
为客户提供资产管理服务,以及其他资产管理和交易相关服务
Offering the clients with asset management service and other related service
协议定价
Agreed price

对公客户
Corporate customers
1.2018年12月5日开始收费
1.Start charging on December 5, 2018
2.后续优惠(如有)依协议确定
2.Subsequence preferential policies (if any) are definited according to the agreement

TP004

平台服务费
Intermediary service fee
提供客户转介绍或产品与服务分销;并联合合作机构为个人或企业提供增值服务。
Provide referral and distribution of products and services;provide value-added services for individuals or enterprises with joint financial institutions.
协议定价
Agreed price

同业/对公客户
Inter-bank /Corporate customers
1.2021年3月31日开始收费
1.Start charging on March, 2021
2.后续优惠(如有)依协议确定
2.Subsequence preferential policies (if any) are definited according to the agreement
说明Notes
1.本价目表依据《中华人民共和国价格法》、《商业银行服务价格管理办法》(中国银监会国家发展改革委令 2014年第1号)等相关规定制定。
1. The price lists are developed in accordance with the Price Law PRC and the Service Price Management Measures of Commercial Banks (CBRC & SDRC Decree (2014) No.1).
2.本价目表适用对象分为全部客户、对公客户和个人客户,其中,全部客户包括对公和个人客户;对公客户除涵盖正常开展业务的企事业单位外,还包括政府机构、金融机构及第三方合作机构等。
2. The price lists are applicable to all customers, corporate customers and personal customers. Specifically, all customers include corporate and personal customers, while corporate customers also include government agencies, financial institutions and third-party cooperative institutions in addition to companies and public institutions that run business normally.
3.本价目表中的市场调节价由中信百信银行股份有限公司负责制定与解释。法律、行政法规、政府部门规章及其他规范性文件有规定的,从其规定。
3. Market-adjusted prices herein are set and interpreted by CITIC aiBank Corporation Limited. If there are different provisions in laws, administrative regulations, regulations of government agencies and other normative documents, such different provisions shall prevail.
4.本价目表仅供客户了解本行服务项目及收费标准使用,不构成亦不应被视为任何交易的要约、承诺或要约邀请。实际服务收费标准如与本价目表所列不一致的,请以公告或实际协议为准。
4. The price lists are for the customers to know the Bank's service items and their charging standards only, and they shall not be deemed as any offer, undertaking or invitation of off to any transaction. In case that actual service charges are discrepant with those set forth herein, announcement or real agreement shall prevail.
5.本行服务价格咨询(投诉)电话:4008180100;书面投诉联系方式如下:
5. To consult or complain about the Bank's service prices, please call: 4008180100, or mail a letter to: 4008180100, or mail a letter to:
地址:北京市朝阳区安定路5号院中建财富国际中心9层,收件人:百信银行运营管理部,邮编100029;
Address: 9/F,CSC Fortune International Centre, No. 5 An Ding Road, Chaoyang District, Beijing, Recipient: Operation Management Department of aiBank, Postal Code: 100029;
6.本价目表自2017年9月5日起执行。其中,优惠政策自2018年6月5日起至2018年9月4日止,到期前如未发布公告,则自动按季顺延,以此类推;我行另有说明的除外。
6. The price list will be implemented from September 5, 2017. The preferential policies will be valid from June 5, 2018 to September 4, 2018 only, and if no announcement is made before expiration, they will automatically extend on a quarterly basis, unless otherwise specified by the Bank.
Top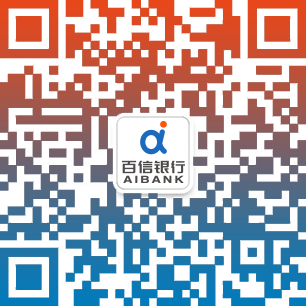 关注百信银行公众号